Mindset is an important processor that determines all the choices you make and the way you execute the actions that follow them. It is such an amazing and wide concept of decision making and performing that it has a plethora of constituents big and small, effective in their own ways leading up to motivate and bring out the better.
A good atmosphere is the best facilitator that motivates one both consciously and sub-consciously. Entertainment is one popular source of creating a good atmosphere. Sports in a way is entertainment for those who love it, but Sports Management can also be entertainment for those who want to make a career out of it.
In this piece, we talk about shows and movies related to sports that do involve implementation and showcasing of sports management. The list is not going to be very long, as we only mention those artworks that we personally find both informative and entertaining:
List of sports management Movie/shows
1) Jerry Maguire :
This epic Tom Cruise starrer is an amazing lesson of how morals play an important role in any business, though specifically sports management. Playing the role of Jerry Maguire, Tom Cruise is fired from Sports Management International (SMI) following expressions of moral epiphany. He starts his own individual sports agency and only gets one out of all of his clients from SMI with whom his new philosophy is put to test.
Where To Watch – Amazon Prime Video
2) Money Ball :
Money Ball is an American biographical sports drama starring Brad Pitt as Billy Beane, the General Manager of Oakland Athletics directed by Bennett Miller. It is based on Michael Lewis's written adaptation of the same name that covers the Oakland Athletics' 2002 season having to start from scratch with the best players leaving to still finish on top out of nowhere with Billy Beane's efforts to make it a success within the limited budget of Oakland Athletics.
Where To Watch – Amazon Prime Video
3) Million Dollar Arm :
Third on our list is another biography known as the Million Dollar Arm starring Suraj Sharma (yes the boy from Life of Pi) and Jon Hamm who plays the role of JB Bernstein, a big-time sports agent who fails to find success in his new venture with all of his clients retiring from their sports. The sports drama directed by Craig Gillespie is based on the true story of baseball pitchers Rinku Singh and Dinesh Patel who were discovered by JB after winning the reality show competition 'Million Dollar Arm' in the hopes of finding baseball talent from a cricket-loving country that India has always been.
Where To Watch – Disney+ Hotstar
Also read: Books to read as an aspiring Football Manager
4) Gold :
This time sneaking into Bollywood, Gold is also a biographical drama recording the journey of India's hockey team back in the nearing end of the colonial era and the years that followed. The film features Akshay Kumar as Tapan Das, the joint manager of Team India who dreams to make India play hockey as an independent country and earn it's first Olympic gold medal at the 1948 Summer Olympics.
Where To Watch – Amazon Prime Video
5) Ballers:
Ballers is a comedy-drama television series starring Dwayne Johnson as Spencer Strasmore, a retired NFL player who has to shape his new chosen career as the financial manager and mentor of other current and former players of NFL, the show has earned ratings of 7.6 out of 10 in IMDb featuring 47 episodes throughout its 4 seasons from 2015 to 2019.
Where To Watch – Disney+ Hotstar
6) The Last Dance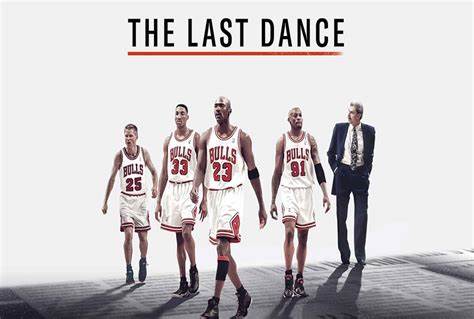 The Last Dance is a docuseries on the legendary Basketball player Michael Jordan. It takes us through the nuances that happen behind the scenes in a sports franchise, in this case – Chicago Bulls.
If you aspire to work in the sports industry then it is a must watch. The series covers how decisions are made at the franchise level, the various aspects involved, dressing room politics, etc. The docuseries also covers interviews by players, coaches and the management personnel. Various aspects covered are – Sports Marketing, Sports Administration, Sports Media, Athlete Management.
Where To Watch – Netflix
7) Ford V Ferrari
Ford V Ferrari, based on a true story, is an all-time classic with an iconic cast. Christian Bale plays the role of a British war veteran and driver Ken Miles who has the responsibility of bringing glory to Ford by taking the Ford GT40 to defeat the superior team of Scuderia Ferrari at the 1966 24 Hours of Le Mans race in France. The film includes a lot of backstage talk that influences big decisions and actions that shape the story.
Ford V Ferrari thoroughly manages to portray the rivalry and relationship between the bosses of two automobile giants i.e Henry Ford II and Enzo Ferrari. You also get to see a lot of in-house process as American and British engineers and automotive designer Carroll Shelby keep redesigning the GT40 to be able to compete with the Ferrari. The way it was created, it's more on the entertaining side but there is definitely a lot of stuff to pick up from.
Where To Watch – Disney+ Hotstar
8) Sons of the Soil: Jaipur Pink Panthers
Sons of the Soil is another docuseries based on the Pro Kabaddi League franchise Jaipur Pink Panthers. The show is portrayed from the point of view of the team owner Abhishek Bachchan himself where we closely get to see the involvement of the owner and other important professionals like the COO and the Team Manager in context with a running tournament on all sports management verticals like operations, branding & marketing, team management etc as well as planning for the future.
You will also get a very good idea of how things happen while managing a team as the show involves a lot of behind-the-scenes footage not just during the tournament but months before it i.e from the moment everything begins including planning and initiating. The most important part is that the docuseries was recorded during a season where the Pink Panthers lost the tournament, which makes for a good learning curve for the watchers on how to handle adversity in sports and work for the team.
Where To Watch – Amazon Prime Video
So this was our curated list of movies and shows that play their bit on sports management. We shall keep updating this list as we come to learn of more productions that fit into the purpose of this blog. Follow us on our social media handles to get all the timely updates. Happy watching!